Main content starts here, tab to start navigating
COORDINATES:


N34° 07.012


W081° 15.287
Menus
STARTERS
Hushpuppies

House made maple butter

$8.95

Liberty Fries

potato wedges, ranch dressing, mixed cheese, applewood smoked bacon

$9.95

Baked Pretzels

butter brushed, sea salt, poblano queso, whole grain mustard

$10.95

Crispy Calamari

sweet chili sauce

$14.95

Liberty Chicken Wings

original or double fried
hot, medium, mild, honey sriracha
celery, ranch or bleu cheese

$14.95

Taproom Chicken Nachos

corn tortilla chips, roasted chicken, black beans, poblano queso, mixed cheese, pico de gallo, sour cream, jalapeños

$14.95

SOUTHERN FRIED CHICKEN TENDERS

buttermilk brined, honey mustard

$11.95

Seared Ahi Tuna

sesame crusted, wasabi cream, teriyaki, pickled ginger, seaweed salad

$14.95

Bonfire Shrimp

fried shrimp, bonfire sauce, scallions

$13.95

Coconut Shrimp

pineapple marmalade

$13.95

Grilled Shrimp Flatbread

roasted garlic cream, red onion, mozzarella, basil

$12.95

BBQ Chicken Flatbread

BBQ glaze, grilled chicken, mozzarella, pineapple salsa

$12.95
SALADS & SOUP
CHARLESTON SHE CRAB SOUP

$9.95

Iceberg Wedge

applewood smoked bacon, bleu cheese crumbles, tomatoes, bleu cheese dressing

$9.95

Mixed Green

cucumber, tomatoes, mixed cheese, croutons

$7.95

Caesar

hearts of romaine, asiago, croutons

$7.95

Add the following proteins to any salad above for an additional charge of

Grilled or Fried Chicken Breast $7

Southern Fried or Grilled Shrimp $8

Add Grilled Salmon or Grilled Tuna $8

Add Grilled Steak $7
Entree Salads
COBB

grilled OR fried chicken, chopped egg, applewood smoked bacon, bleu cheese crumbles, tomatoes, cucumbers, mixed greens, bleu cheese dressing

$15.95

SPINACH & STRAWBERRY

grilled shrimp, strawberries, spinach, candied pecans, goat cheese, balsamic vinaigrette

$15.95

BUTCHER BLOCK STEAK

dry rubbed sliced steak, spring greens, roasted red peppers, pickled red onions, tomatoes, cucumbers, bleu cheese crumbles, balsamic vinaigrette

$15.95
Pizzas
CLASSIC PEPPERONI

pepperoni, tomato sauce, mozzarella

$13.95

MARGUERITE

olive oil & garlic, buffalo mozzarella, roma tomatoes, fresh basil

$14.95

TAPROOM

tomato sauce, hamburger, pepperoni, green peppers, mushrooms, onions, mozzarella

$14.95
Tacos
CHOOSE 2 TACOS SERVED ON FLOUR TORTILLAS WITH A SIDE OF BLACK BEANS & RICE TOPPED WITH MIXED CHEESE, SOUR CREAM AND SCALLIONS $12.95
BLACKENED SHRIMP

bonfire sauce, cucumber, cabbage, pico de gallo

ROASTED CHICKEN

mixed cheese, pico de gallo, sour cream

BAJA GRILLED FISH

grilled cod, cabbage, pico de gallo, baja sauce, cilantro
Burgers & Sandwiches
Our Signature CAB Smash Burgers, served with French Fries
Crown Classic

american cheese, lettuce, tomato, pickles, secret sauce

4oz Single Patty $10.95

Double Patties $13.95

Tap Room

two 4oz patties, cheddar cheese, lettuce, tomato

$13.95

Freedom

two 4oz patties, cheddar, applewood smoked bacon, fried egg, lettuce, tomato

$14.95

Bleu

two 4oz patties, bleu cheese sauce, bleu cheese crumbles, applewood smoked bacon

$14.95

LIBERTY CLUB

grilled chicken, applewood smoked bacon, lettuce, tomato, sundried tomato basil pesto, monterey jack, wheatberry bread

$14.95

Steak & Cheese Philly

peppers, onions, mushrooms, monterey jack cheese, hoagie roll, au jus

$14.95

Salmon BLT

grilled salmon, lettuce, tomato, applewood smoked bacon, hoagie roll, malt vinegar-caper tartar sauce

$15.95
House Favorites
BBQ Baby Back Ribs

french fries, collard greens

Half Rack $18.95

Full Rack $28.95

CERTIFIED ANGUS BEEF® MEATLOAF

yukon gold mashed potatoes, gravy, sautéed green beans

$16.95

HAWAIIAN CHICKEN

teriyaki glazed grilled chicken breasts, pineapple salsa, rice, sautéed green beans

$18.95

SWEET BOURBON GLAZED SALMON

rice, sautéed green beans

$23.95

JAMBALAYA PASTA

shrimp, crawfish, andouille sausage, bell peppers, cajun cream sauce, fettuccine pasta

$23.95

SHRIMP AND GRITS

tasso ham cream sauce, stone ground yellow cheddar grits

$21.95

FISH N' CHIPS

beer battered codfish, french fries, southern slaw, malt vinegar-caper tartar sauce, hushpuppies

$19.95

FRIED SEAFOOD PLATTER

shrimp, cod & oysters, served with french fries, southern slaw & hushpuppies

$29.95
Signature Steaks
We proudly serve Certified Angus Beef® brand to provide you with the highest quality of beef available. A cut above USDA prime, choice and select. Ten strict standards set the brand apart. All steaks are served with choice of one side item and a mixed greens or ceaser salad.
FILET MIGNON

8oz

$29.95

DRY RUB SIRLOIN

6oz

$17.95

RIBEYE

12oz

$27.95

SIRLOIN & COCONUT SHRIMP

6oz dry rub sirloin, coconut shrimp, pineapple marmalade

$23.95

ACCOMPANIMENTS

Sautéed Mushrooms & Onions $3

Bleu Cheese Crust $3

Grilled or Fried Jumbo Shrimp $7

Coconut Shrimp $7
On The Side
$4
SOUTHERN SLAW

BLACK BEANS

RICE

FRENCH FRIES

BAKED POTATO

SAUTÉED GREEN BEANS

COLLARD GREENS

YUKON GOLD MASHED POTATOES
A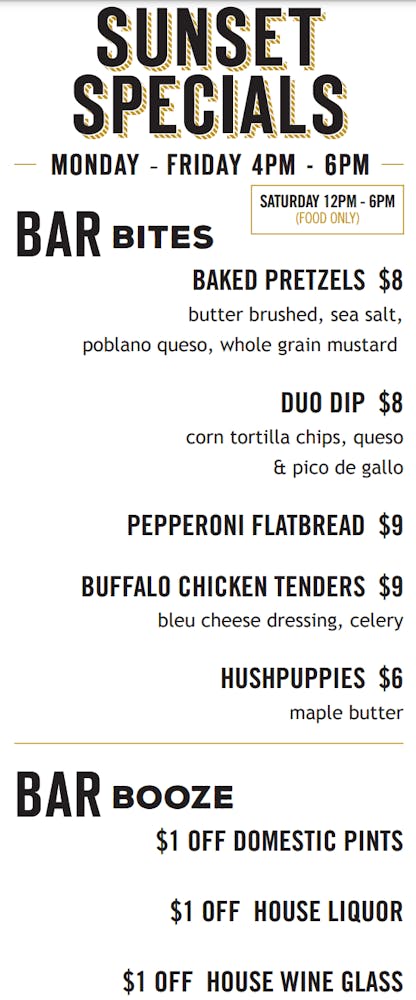 VAILABLE
MONDAY - FRIDAY
4PM-6PM
BAR BOOZE
$1 OFF DOMESTIC PINTS $1 OFF HOUSE LIQUOR $1 OFF HOUSE WINE GLASS
18% Gratuity added for parties of 8 or more
These options are designed to simplify things for your guests, your budget and ultimately maximize your overall experience.
Download PDF
Brunch Buffet
$31.95 per Person

Scrambled Eggs

Breakfast Potatoes

Bacon & Sausage Links

Chicken Tenders

Waffles

Grits

Biscuits

Sausage Gravy

French Toast

Fresh Fruit Salad

Coffee, Soda and Tea
Appetizer Buffet
Beverages not included in price
$14.95 per Person

(Choose 3)

Boneless Chicken Bites

Chips and Pico De Gallo

Black Bean Hummus with Pitas

Hush Puppies

$18.95 per Person

(Choose 3)

Chicken Wings

Chicken Quesadillas

Pretzel Bites

Bonfire Shrimp

Bruschetta with Flatbreads

$22.95 per Person

(Choose 3)

Seared Ahi Tuna

Shrimp Cocktail

Bbq Rib Stacks

Caprese Platter

7 Layer Chicken Dip with Tortilla
Dinner Buffet
Coffee, tea & sodas included in price
$25.95 per Person

Chicken Florentine Pasta

Shrimp & Grits

Meatloaf

(Choose 2 Sides)

Yukon Gold Mashed Potatoes

Collard Greens

Green Beans

$31.95 per Person

(Choose 3 entrées)

Blackened Salmon

Steak Pasta

Hawaiian Chicken

Bbq Baby Back Ribs

(Choose 2 Sides)

Rice

Collard Greens

Green Beans

Coleslaw

$38.95 per Person

Choice of Mixed Green or Caesar Salad

(Choose 3 Entrées)

Steak Tips in Demi-Glace

Bourbon Glazed Salmon

Jambalaya Pasta

Chicken & Waffles

Bbq Baby Back Ribs

(Choose 2 Sides)

Loaded Mashed Potatoes

Garlic Herb Roasted Potatoes

Sautéed Green Beans

With Roasted Red Peppers

Rice Pilaf

$49.95 per Person

Spinach & Strawberry Salad with Balsamic Vinagreitte

Roasted Beef Tenderloin with Horseradish Cream & Au Jus

Garlic Lemon Shrimp

Chicken Marsala

(Choose 2 Sides)

Sautéed Mushrooms & Onions

Garlic Herb Roasted Potatoes

Loaded Mashed Potatoes

Candied Bacon Brussel Sprouts

Grilled Asparagus

Mac and Cheese

Seasonal Vegetables

Add on Options

Salad $4 per Person

Dessert Platter (Feeds 20) $80

Cheese and Vegetable Platter (Feeds 20) $80

Vegetable Platter (Feeds 20) $60
Kids Menu
(Ages 12 & Under)
EACH KIDS MEAL INCLUDES ONE SIDE ITEM & ONE KIDS WATER, TEA OR FOUNTAIN SODA
Add $1 for Milk or Apple Juice (refills available at additional charge)
Chicken Fingers

grilled or fried

$6.95

Certified Angus Beef Burger

hamburger or cheeseburger

$7.95

Hot Dog

$6.95

Uncrustable Peanut Butter & Jelly

$5.95

Grilled Cheese

white or wheat bread

$5.95

Kraft Mac & Cheese

$6.95

Side Items

French Fries | Yukon Gold Mashed Potatoes | Celery Sticks | Seasonal Vegetable