Main content starts here, tab to start navigating
Menus
Shareables
Hushpuppies

House made maple butter

$7.95

Liberty Fries

potato wedges, ranch dressing, mixed cheese, applewood smoked bacon

$8.95

Baked Pretzels

butter brushed, sea salt, poblano queso, whole grain mustard

$9.95

Crispy Calamari

sweet chili sauce

$12.95

Liberty Chicken Wings

original or double fried
hot, medium, mild, honey sriracha
celery, ranch or bleu cheese

$14.95

Taproom Chicken Nachos

corn tortilla chips, roasted chicken, black beans, poblano queso, mixed cheese, pico de gallo, sour cream, jalapeños

$14.95

Southern Fried Chicken Tenders

buttermilk brined, honey mustard

$10.95

Seared Ahi Tuna

sesame crusted, wasabi cream, teriyaki, pickled ginger, seaweed salad

$13.95

Bonfire Shrimp

fried shrimp, bonfire sauce, scallions

$11.95

Coconut Shrimp

pineapple marmalade

$11.95

Grilled Shrimp Flatbread

roasted garlic cream, red onion, mozzarella, basil

$12.95

BBQ Chicken Flatbread

BBQ glaze, grilled chicken, mozzarella, pineapple salsa

$12.95
Salads
Iceberg Wedge

applewood smoked bacon, bleu cheese crumbles, bleu cheese dressing, tomatoes

$8.95

Mixed Green

cucumber, tomatoes, mixed cheese, croutons

$7.95

Caesar

hearts of romaine, shaved parmesan, croutons

$6.95

Add Protein

Grilled Chicken $6

Shrimp $7

Salmon $7

Steak $7

Ahi Tuna $8
Entree Salads
Spinach & Strawberry

grilled shrimp, strawberries, spinach, candied pecans, goat cheese, balsamic vinaigrette

$15.95

Butcher Block Steak

dry rubbed sliced steak, spring greens, roasted red peppers, pickled red onions, tomatoes, cucumbers, bleu cheese crumbles, balsamic vinaigrette

$15.95

Cobb

grilled OR fried chicken, chopped egg, applewood smoked bacon, bleu cheese crumbles, tomatoes, cucumbers, mixed greens, bleu cheese dressing

$13.95
Tacos
SERVED ON FLOUR TORTILLAS
Taco Platter

choose 2 tacos served on flour tortillas with a side of black beans & rice topped with mixed cheese, sour cream and scallions

$12.95

Blackened Shrimp

bonfire sauce, cucumbers, cabbage, pico de gallo

Roasted Chicken

mixed cheese, pico de gallo, sour cream

Baja Grilled Fish

grilled cod, cabbage, pico de gallo, baja sauce, cilantro
Pizzas
Classic Pepperoni

tomato sauce, mozzarella, pepperoni

$11.95

Marguerite

olive oil & garlic, buffalo mozzarella, roma tomatoes, fresh basil

$12.95

Taproom

tomato sauce, hamburger, pepperoni, green peppers, mushrooms, onions, mozzarella

$12.95
House Favorites
BBQ Baby Back Ribs

french fries, collard greens

Half Rack $17.95

Full Rack $25.95

Fish N' Chips

beer battered codfish, french fries, southern slaw, malt vinegar-caper tartar sauce, hushpuppies

$18.95

Certified Angus Beef Meatloaf

yukon gold mashed potatoes, gravy, sautéed green beans

$15.95

Shrimp and Grits

tasso ham cream sauce, stone ground yellow cheddar grits

$20.95

Sweet Bourbon Glazed Salmon

rice, sautéed green beans

$20.95

Jambalaya Pasta

shrimp, crawfish, andouille sausage, bell peppers, cajun cream sauce, fettuccine pasta

$21.95

Hawaiian Chicken

teriyaki glazed grilled chicken breasts, pineapple salsa, rice, sautéed green beans

$17.95

Fried Seafood Platter

shrimp, cod & oysters, served with french fries, southern slaw & hushpuppies

$27.95
Burgers & Sandwiches
SERVED WITH FRENCH FRIES
Crown Classic

american cheese, lettuce, tomato, pickles, secret sauce

4oz Single Patty $10.95

Double Patty $12.95

Tap Room

8oz patty, cheddar cheese, lettuce, tomato

$12.95

Freedom

8oz patty, cheddar, applewood smoked bacon, fried egg, lettuce, tomato

$13.95

Bleu

8oz patty, bleu cheese sauce, bleu cheese crumbles, applewood smoked bacon

$13.95

Liberty Club

grilled chicken, applewood smoked bacon, lettuce, tomato, sundried tomato basil pesto, monterey jack, wheatberry bread

$12.95

Steak & Cheese Philly

peppers, onions, mushrooms, monterey jack cheese, hoagie roll, au jus

$12.95

Salmon BLT

grilled salmon, lettuce, tomato, applewood smoked bacon, hoagie roll, malt vinegar-caper tartar sauce

$13.95
Signature Steaks
ALL CERTIFIED ANGUS BEEF® STEAKS SERVED WITH CHOICE OF ONE SIDE AND A MIXED GREEN OR CAESAR SALAD
Filet Mignon

8oz

$27.95

Dry Rub Sirloin

6oz

$17.95

Ribeye

12oz

$26.95

Sirloin & Coconut Shrimp

6oz dry rub sirloin, coconut shrimp, pineapple marmalade

$23.95

Accompaniments

Sautéed Mushrooms & Onions $3

Bleu Cheese Crust $3

Grilled or Fried Jumbo Shrimp $7

Coconut Shrimp $7
On The Side
$3.95
Southern Slaw

Black Beans

Rice

French Fries

Baked Potato

Sautéed Green Beans

Yukon Gold Mashed Potatoes

Collard Greens
Starters
Hushpuppies

House made maple butter

$7.95

Liberty Fries

potato wedges, ranch dressing, mixed cheese, applewood smoked bacon

$8.95

Baked Pretzels

butter brushed, sea salt, poblano queso, whole grain mustard

$9.95

Crispy Calamari

sweet chili sauce

$12.95

Liberty Chicken Wings

original or double fried
hot, medium, mild, honey sriracha
celery, ranch or bleu cheese

$14.95

Taproom Chicken Nachos

corn tortilla chips, roasted chicken, black beans, poblano queso, mixed cheese, pico de gallo, sour cream, jalapeños

$14.95

Southern Fried Chicken Tenders

buttermilk brined, honey mustard

$10.95

Seared Ahi Tuna

sesame crusted, wasabi cream, teriyaki, pickled ginger, seaweed salad

$13.95

Bonfire Shrimp

fried shrimp, bonfire sauce, scallions

$11.95

Coconut Shrimp

pineapple marmalade

$11.95

Grilled Shrimp Flatbread

roasted garlic cream, red onion, mozzarella, basil

$12.95

BBQ Chicken Flatbread

BBQ glaze, grilled chicken, mozzarella, pineapple salsa

$12.95
Salads
She Crab Soup

$8.95

Iceberg Wedge

applewood smoked bacon, bleu cheese crumbles, bleu cheese dressing, tomatoes

$8.95

Mixed Green

cucumber, tomatoes, mixed cheese, croutons

$7.95

Caesar

hearts of romaine, shaved parmesan, croutons

$6.95

Add Protein

Grilled Chicken $6

Shrimp $7

Salmon $7

Steak $7

Ahi Tuna $8
Entree Salads
Spinach & Strawberry

grilled shrimp, strawberries, spinach, candied pecans, goat cheese, balsamic vinaigrette

$15.95

Butcher Block Steak

dry rubbed sliced steak, spring greens, roasted red peppers, pickled red onions, tomatoes, cucumbers, bleu cheese crumbles, balsamic vinaigrette

$15.95
Pizzas
Classic Pepperoni

tomato sauce, mozzarella, pepperoni

$11.95

Marguerite

olive oil & garlic, buffalo mozzarella, roma tomatoes, fresh basil

$12.95

Taproom

tomato sauce, hamburger, pepperoni, green peppers, mushrooms, onions, mozzarella

$12.95
House Favorites
BBQ Baby Back Ribs

french fries, collard greens

Half Rack $17.95

Full Rack $25.95

Fish N' Chips

beer battered codfish, french fries, southern slaw, malt vinegar-caper tartar sauce, hushpuppies

$18.95

Certified Angus Beef Meatloaf

yukon gold mashed potatoes, gravy, sautéed green beans

$15.95

Shrimp and Grits

tasso ham cream sauce, stone ground yellow cheddar grits

$20.95

Sweet Bourbon Glazed Salmon

rice, sautéed green beans

$20.95

Jambalaya Pasta

shrimp, crawfish, andouille sausage, bell peppers, cajun cream sauce, fettuccine pasta

$21.95

Hawaiian Chicken

teriyaki glazed grilled chicken breasts, pineapple salsa, rice, sautéed green beans

$17.95

Fried Seafood Platter

shrimp, cod & oysters, served with french fries, southern slaw & hushpuppies

$27.95
Burgers & Sandwiches
SERVED WITH FRENCH FRIES
Crown Classic

american cheese, lettuce, tomato, pickles, secret sauce

4oz Single Patty $10.95

Double Patty $12.95

Tap Room

8oz patty, cheddar cheese, lettuce, tomato

$12.95

Freedom

8oz patty, cheddar, applewood smoked bacon, fried egg, lettuce, tomato

$13.95

Liberty Club

grilled chicken, applewood smoked bacon, lettuce, tomato, sundried tomato basil pesto, monterey jack, wheatberry bread

$12.95
Signature Steaks
ALL CERTIFIED ANGUS BEEF® STEAKS SERVED WITH CHOICE OF ONE SIDE AND A MIXED GREEN OR CAESAR SALAD
Filet Mignon

8oz

$27.95

Dry Rub Sirloin

6oz

$17.95

Ribeye

12oz

$26.95

Sirloin & Coconut Shrimp

6oz dry rub sirloin, coconut shrimp, pineapple marmalade

$23.95

Accompaniments

Sautéed Mushrooms & Onions $3

Bleu Cheese Crust $3

Grilled or Fried Jumbo Shrimp $7

Coconut Shrimp $7
On The Side
$3.95
Southern Slaw

Black Beans

Rice

French Fries

Baked Potato

Sautéed Green Beans

Collard Greens

Yukon Gold Mashed Potatoes
2 FOR 1
2 DINNER ENTRÉES FOR THE PRICE OF 1!
BUY ONE ENTREE, GET ONE FREE
EVERY THURSDAY IN FEBRUARY
4PM-CLOSE
2 FOR 1 ENTRÉE OPTIONS FROM A LIMITED MENU. FREE ENTRÉE MUST BE OF EQUAL OR LESSER VALUE. DINE IN ONLY.NO COUPON OR RESERVATIONS NECESSARY. NOT VALID WITH ANY OTHER PROMOTION OR DISCOUNT.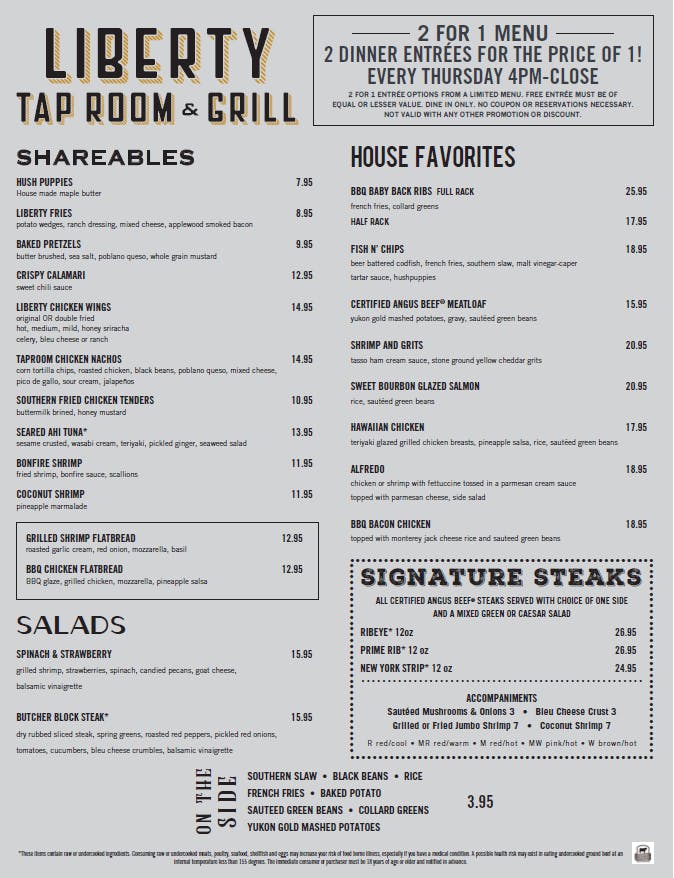 Download PDF
Monday- Friday 4PM-7PM
Saturday & Sunday: ALL DAY (Food Only)
dine in only
18% Gratuity added for parties of 8 or more
Download PDF
BAR BITES
MON - FRI 4PM - 7PM
SAT - SUN ALL DAY (FOOD ONLY)
SPINACH & ARTICHOKE DIP

Tortilla Chips

$9

BLACKENED CHICKEN SPRING ROLLS

Spicy ranch

$9

FRIED PICKLES

Dill pickle chips, ranch dressing

$8

LIBERTY FRIES

wedge potatoes OR french fries, ranch dressing, mixed cheese, applewood smoked bacon

$8

Buffalo Chicken Flatbread

Chicken, mozzarella, buffalo sauce, blue cheese crumbles, green onions

$11

Jalapeño poppers

fried jalapeno stuffed with cream cheese served with ranch

$9

Buffalo Shrimp

fried shrimp, choice of sauce: bonfire, hot, medium, or mild celery, bleu cheese or ranch

$9

Wings (10)

traditional OR double fried choice of sauce: buffalo mild, buffalo hot, buffalo fire, bbq, teriyaki celery, blue cheese, OR ranch dressing

$11

BLEU CHEESE POTATO CHIPS

Warm bleu cheese sauce, bleu cheese crumbles, scallions

$7

Beyond Beef Burger

Plant-based burger, lettuce, tomato, pickle chips and a side of garlic aioli

$10
BAR BOOZE $5
DRAFT PINTS

New South American Blonde Ale
New South Nut Brown Ale
Blue Moon
Yuengling
Miller Lite
Bud Light


HOUSE WINES

Chardonnay
Pinot Grigio
White Zinfandel
Cabernet
Merlot

HOUSE LIQUORS

Vodka
Rum
Bourbon
Tequila
Gin
Scotch
Whiskey

FROSÉ [froze-ay]

a mixed drink made from Rosé wine frozen to a slush Ask what flavors are available today!

16oz $5
DESSERTS
NEW YORK STYLE CHEESECAKE

A classic, velvety cheesecake (so creamy, smooth & satisfying, it makes the statue of Liberty smile) with a buttery graham cracker crumb crust.

$7.95

REESE'S PIE

The popular candy bar in a pie! Dark chocolate and peanut butter mousse full of Reese's® Peanut Butter Cups

$7.95

"BETTER THAN YOUR MOMMA'S" CHOCOLATE CAKE

3 Layers of Chocolate cake covered with Hershey's Cocoa chocolate icing & Hershey's Dark Fudge Chocolate Topping. And if that is not enough chocolate we dress the sides with chocolate curls

$7.95

CHOCOLATE CHIP COOKIE SUNDAE

warm chocolate chip cookie, topped with vanilla ice cream, chocolate syrup & whip cream

$6.95
AFTER DINNER COCKTAILS
ESPRESSO MARTINI

Striped Pig Espresso Vodka , Godiva Chocolate Liqueur, Crème, Chocolate Drizzle

$9

SALTED CARAMEL MARTINI

Caramel Vodka , Creme de Coco, Cream, Frangelico, sprinkled with Sea Salt

$9

SNICKERDOODLE COCKTAIL

Rum Chata, Amaretto served with a Cinnamon Sugar Rim

$9
AFTER DINNER CORDIALS
SAMBUCA

$7

GRAND MARNIER

$9.25
JAZZ UP YOUR COFFEE
add any of the following to your coffee
KAHLUA

$6

RUMCHATA

$6

BAILEY'S IRISH CREAM

$6.75

JAMESON

$7

FRANGELICO

$7
Kids Menu
(Ages 12 & Under)
EACH KIDS MEAL INCLUDES ONE SIDE ITEM & ONE KIDS WATER, TEA OR FOUNTAIN SODA
Add $1 for Milk or Apple Juice (refills available at additional charge)
Chicken Fingers

grilled or fried

$6.95

Certified Angus Beef Burger

hamburger or cheeseburger

$7.95

Hot Dog

$6.95

Uncrustable Peanut Butter & Jelly

$5.95

Grilled Cheese

white or wheat bread

$5.95

Kraft Mac & Cheese

$6.95

Side Items

French Fries | Yukon Gold Mashed Potatoes | Celery Sticks | Seasonal Vegetable
GLUTEN FRIENDLY MENU
Liberty Tap Room is not a gluten free environment. Our menu items are handcrafted in our kitchens, often times using shared equipment (including common fryers) and variations in vendor-supplied ingredients may occur.
For these reason, we cannot assure you that any menu item will be entirely gluten free.
18% Gratuity added for parties of 8 or more
Download PDF
SHAREABLES
Housemade Tortilla Chips

served with pico de gallo

$4.95

Bonfire Shrimp

grilled shrimp, bonfire sauce, scallions

$10.95

Grilled Chicken Tenders

honey mustard

$9.95

"Old School" Chicken Nachos

corn tortilla chips, roasted chicken, black beans, poblano queso, mixed cheese, pico de gallo, sour cream, jalapeños

$12.95

Chicken Wings (10)

hot, medium, mild, celery, bleu cheese

$13.95
Salads
Mixed Green Salad

cucumber, tomatoes, mixed cheese

$6.95

Grilled Chicken $5

Shrimp $6

Salmon $7

Steak $7

Caesar

romaine hearts, asiago

$6.95

Grilled Chicken $6

Shrimp $7

Salmon $7

Steak $7

Iceberg Wedge

applewood smoked bacon, bleu cheese crumbles, bleu cheese dressing, tomatoes

$8.95

Grilled Chicken $5

Shrimp $6

Salmon $7

Steak $7

Spinach & Strawberry Salad

grilled shrimp, strawberries, spinach, candied pecans, goat cheese, balsamic vinaigrette

$15.95

Steak Salad

dry rub sirloin, spring greens, roasted red pepper, pickled red onion, tomato, cucumber, bleu cheese, balsamic vinaigrette

$15.95

Cobb Salad

grilled chicken, chopped egg, applewood smoked bacon, bleu cheese crumbles, tomatoes, cucumbers, mixed greens, bleu cheese dressing

$13.95
BURGERS
served on a gluten free bun with your choice of one side
Freedom

cheddar, applewood smoked bacon, fried egg, lettuce, tomato

$13.95

Bleu

bleu cheese sauce, bleu cheese crumbles, applewood smoked bacon

$12.95

TAPROOM

8oz patty, cheddar cheese, lettuce, tomato

$12.95
Sandwiches
all sandwiches served on a gluten free bun with your choice of one side
Steak & Cheese Philly

peppers, onions, mushrooms, monterey jack cheese, au jus

$12.95

Liberty Club

grilled chicken, applewood smoked bacon, lettuce, tomato, sundried tomato & basil aioli, monterey jack

$12.95

Salmon BLT

grilled salmon, lettuce, tomato, applewood smoked bacon, malt vinegar-caper tartar sauce

$13.95
HOUSE FAVORITES
SWEET BOURBON GLAZED SALMON

rice, sauteed green beans

$20.95

GRILLED CHICKEN

grilled chicken breasts, rice, sautéed green beans

$17.95

BBQ BABY BACK RIBS

served without sauce, collard greens, southern slaw

HALF RACK $17.95

FULL RACK $25.95
Signature Steaks
ALL CERTIFIED ANGUS BEEF® SIGNATURE STEAKS SERVED WITH CHOICE OF ONE SIDE AND A MIXED GREEN SALAD
Ribeye

12oz $26.95

Filet Mignon

8oz $27.95

Dry Rub Sirloin

6oz $17.95
On the Side
available a la carte for $4.25 each
Southern Slaw

Baked Potato

Yukon Gold Mashed Potatoes

Stone Ground Yellow Cheddar Grits

Sautéed Green Beans

Collard Greens